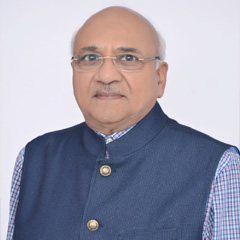 RK Agarwal
Managing Director
'Failure leads to success, don't get disappointed'. This has been the life mantra of R K Agarwal, an alumnus of the Indian Institute of Technology-Kanpur (IIT-K), and promoter of Netplast, which has earned a place in the highly quality conscious global market for making moulded polyurethane foam seats for cars, trucks, buses and NVH parts.
He studied engineering in material sciences at the IIT-K. After graduating in 1973, he worked with TELCO in Pune before deciding to venture on his own.
"Entering into business was a big challenge to me as my family had no business background. My father was in service, and he preferred that I should also remain in service. But kudos to my mother as she supported my idea of starting by own business."
He ventured into many business areas one after the other and finally decided to manufacture high quality automotive components for OEMs. His company was presented with the National Award for SME in the year 2004 and has received various awards from the Government of UP for excellence in Exports.
Besides being a successful businessman, Agarwal is associated with several charitable organizations and NGOs engaged in helping the weaker sections of the society. He is one of the founder members of the global organization "The Indus Entrepreneur" (TiE) constituted by the successful businessmen in Silicon Valley (USA). He has also been the past president of TiE.
RK Agarwal says commitment to quality is the secret of his success. He has never compromised with quality in the manufacturing process and remained vigilant in adopting latest production techniques for ensuring higher quality products.